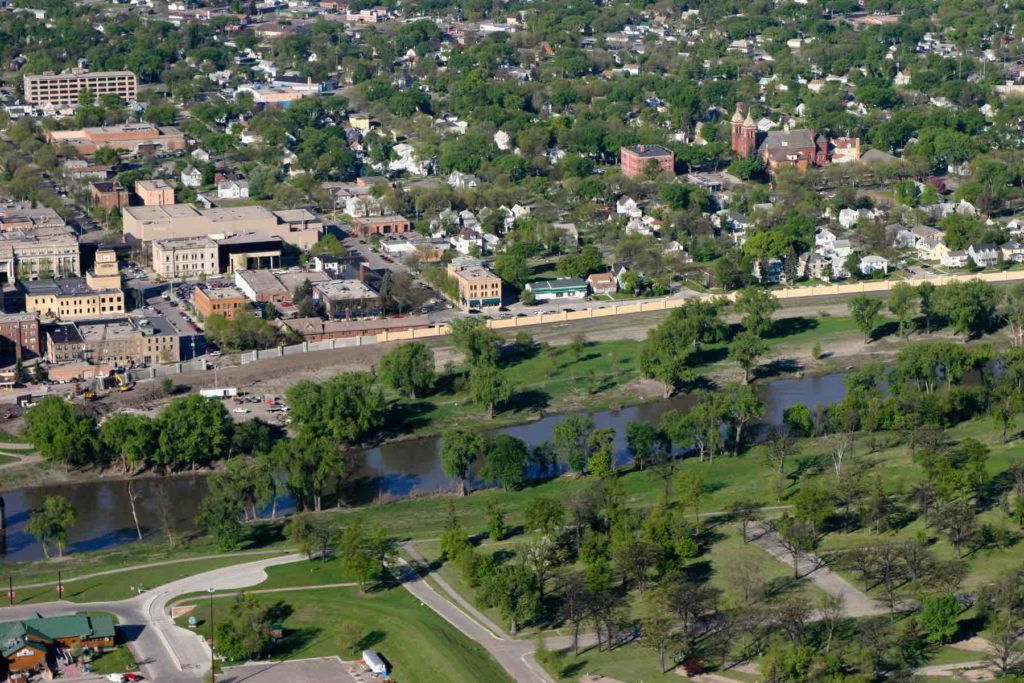 Major Flood brings Major Reduction in Vulnerability
Grand Forks, North Dakota, lies on the exceedingly flat floodplain where the Red River of the North and the Red Lake River join. A large proportion of the City lies within the Special Flood Hazard Area.
Flooding happens there as a result of any one—or a combination—of factors. The Red River flows northward, into Canada, into channels that are sometimes still blocked by winter snow and ice. Sometimes tributaries peak at the same time. Sometimes there is an early snowmelt or a sudden thaw, and heavy rainfall also can result in flooding.
In 1997, too many of these conditions coincided and resulted in a disastrous flood. The Red River was three miles wide in the center of town; 95% of the population was evacuated; 75% of the property was flooded—more than 10,000 buildings; and at least $1.2 billion in damage was done.
That event spurred the City, and its population of 53,000, to even more action to advance flood loss reduction.
After the 1997 flood, a new Flood Insurance Rate Map was in store. A tendency among the residents and (some officials) was to wait for FEMA to issue the new maps and for the Corps of Engineers to repair and improve the floodwall it maintains along the bank of the Red River. People wanted to believe that the floodwall would solve all their flood problems forever and that the new map would show them to be "out" of the floodplain.
"But," says Bev Collings, Building and Zoning Administrator, "our office was determined that new, repaired, and rebuilt development would be updated and safer.
"We continued implementing and enhancing standardized procedures for reviewing permit applications for all types of activity—from dry floodproofing a historic structure to making substantial improvements," explains Collings.
"To be proactive, we anticipated what the new map would show and put the proposed base flood elevations on the plat maps for new development," she adds. The city also enforces a freeboard requirement to add another measure of safety, and has a strict building code—all receiving CRS credit.
Meanwhile, a massive and complex flood protection project got underway, involving moving hundreds of buildings out of the floodplain, creating new open spaces, re-working the Corps floodwall, and rebuilding and revitalizing the severely damaged downtown, which lies adjacent to the river.
The protection project was certified in 2007. By the end of 2010, the Federal Emergency Management Agency had issued updated flood maps that placed the protected areas in a shaded X Zone—meaning that the buildings are considered to be protected from a 100-year flood.
Buildings Removed from Floodplain
A significant proportion of Grand Forks' CRS credit has come from removing insurable buildings from the floodplain and leaving the land in permanent open space. Most of these credited buildings were part of the buyout initiative the followed the 1997 flood, in which
694 residences were demolished;
493 nonresidential buildings were demolished;
850 properties were purchased in voluntary buyout program; and
161 houses and 414 other structures were moved to other locations.
One of the structures that was removed from the floodprone area required special attention because of its status as a historic building. It was a Lustron house, one of only 2500 such pre-fabricated steel homes, which were produced between 1948 and 1950. The houses were meant to be low maintenance and were coated with an extremely durable, baked-on porcelain enamel finish. A partnership of the City, the State of North Dakota, the Historical Society of North Dakota, the Grand Forks Historic Commission, and FEMA preserved the house by dismantling it and reconstructing it on the grounds of the Grand Forks County Historical Society.
Open Spaces get CRS Credit
The land acquired when these building were removed was converted to greenways, bike paths, recreation, a golf course and other public purposes. Grand Forks receives CRS credit for its open space, which now includes 2,200 acres along the Red River and 20 miles of greenway trails.
"In 1997 we were a CRS Class 7," Collings remembers, "but then we realized that if we just documented what we were doing we could raise our classification." That step, along with the post-flood buyout boosted Grand Forks to a CRS Class 5, earning a 25% discount on flood insurance premiums.
"Just as important as the residents' discount is the fact that our city buildings, other government buildings, and school district buildings save on their insurance premiums as well," she adds.
More Value from CRS
"The CRS has taught me a great deal about floodplain management and how it can be implemented," notes Collings, who was the 2011 recipient of the CRS Award for Excellence. "But it taught the City Council and our local people as well. Once they saw how the CRS was helping them, they became even more supportive of our floodplain management program."
All the work in minimizing its vulnerability to flooding has paid off for the City. "When the Red River flooded again in 2001 and 2006, we had greatly reduced flood damage," says Collings.
Editor's note: This is just a snapshot of Grand Forks's floodplain management program. For more, see the City's website.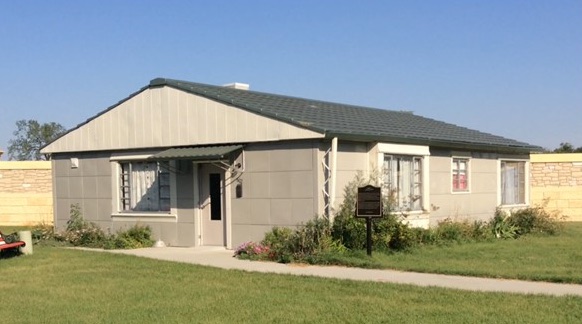 [vc_wp_text el_class="caption"]This historic Lustron house was removed from the floodprone area of Grand Forks. The building, which dates to 1950, was dismantled and re-assembled on the grounds of the Grand Forks County Historical Society. Courtesy City of Grand Forks[/vc_wp_text]