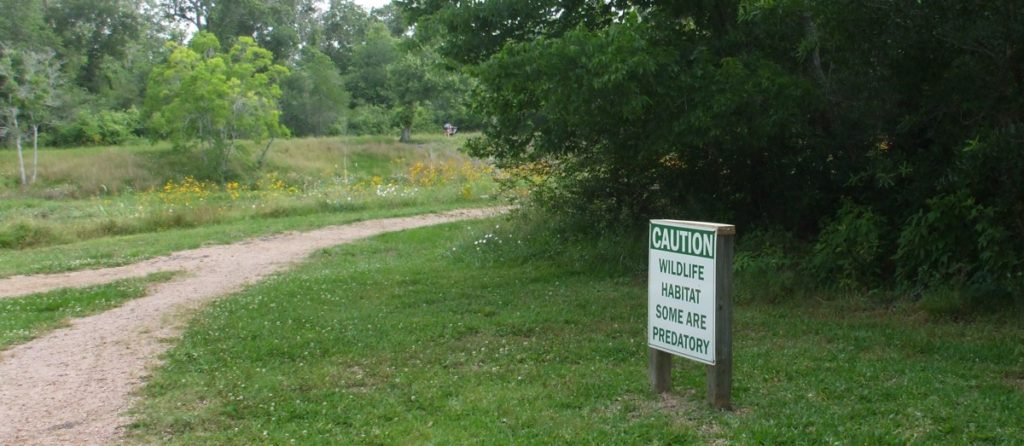 [vc_wp_text el_class="caption"]One of the natural functions of floodplains is the provision of habitat. A sign along a bayou near Pasadena, Texas, reminds visitors that wildlife are at home here. Photo courtesy City of Pasadena[/vc_wp_text]
CRS Community uses Public Outreach—and Public Reaches Back
"The Community Rating System has motivated everyone in our community to help reduce flooding," says Luz Locke, Environmental Services Coordinator for Pasadena, Texas, a city with a population of 144,000 within the Houston metropolitan area. "And that helps the entire community, not just those who are in the floodplain."
Pasadena occupies 44 square miles of predominantly flat land adjoining coastal marshes and the Gulf of Mexico. Its people face flooding from hurricanes, tropical storms, and storm surges from the nearby Houston Ship Channel and Galveston Bay. With three major bayous and 121 miles of open channel, there also is potential for periodic riverine flooding. Most buildings are slab-on-grade, susceptible to damage from shallow flooding and drainage problems.
Pasadena has carried out a vigorous flood loss reduction and mitigation program for many years, featuring many CRS-credited activities. Maintenance of the drainage system and managing stormwater are two key aspects, along with implementation of many higher regulatory standards.
An ongoing acquisition and relocation program, removing severe repetitive flood loss properties out of risk of flooding, has played a significant role in the success of Pasadena's program. A combination of public and private funding makes buyouts possible, and has resulted in in large parcels of land reserved for community outdoor activities and stormwater retention—and deeded as open space in perpetuity.
Pasadena joined the CRS in its formative years, in 1991, and now holds a Class 5 rating. "Our CRS rating has resulted in $340,000 annual savings in flood insurance premiums for residents. This is money that stays in our community and we all benefit from it," explains Locke.
According to Locke, the CRS has been a tremendous help to the city in getting its flood loss reduction efforts better organized. With CRS guidance, the City's outreach program has become a backbone of positive give-and-take with residents.
Program for Public Information

Pasadena already had a vigorous program for public outreach, but with the Program for Public Information (PPI), the messages and audiences came into sharp focus for the outreach campaigns. "We welcomed the opportunity to be one of the first in the Nation to follow the steps of the new CRS-credited activity, Program for Public Information," says Locke. In 2013 the City formed a PPI Committee of nine people: six stakeholder groups are represented and three City staff members participate:
A member representing local insurance agents
A member representing the Pasadena Independent School District, including parents and students;
A member representing owners of local businesses;
A member representing environmental groups and local open space caretakers;
A member representing local residents, homeowners, and industries;
A member representing real estate agents (this team member also represents the Hispanic community) ;
The City of Pasadena's Communication Specialist;
The City of Pasadena's Assistant Director of Public Works; and
The City of Pasadena's Environmental Services Coordinator.
Following the PPI steps as described in the CRS Coordinator's Manual, the Committee took a hard look at what outreach already was being done by the city or other entities, what flood loss reduction techniques could be applied better or more widely, and what people would need to know to help make those techniques effective.
One step in the PPI process calls for the committee to figure out if any groups in the community could benefit from hearing a particular message, or a getting message delivered in a particular form. In Pasadena, the committee identified several "audiences" for outreach messages about flooding. Two of these are:
Spanish-speaking residents – PPI Committee members reported that Spanish speakers appear to be less aware about flood insurance and flood preparedness, and that most of the explanatory materials have only been available are in English. According to the U.S. Census, 62% of Pasadena's population is of "Hispanic or Latino origin."
Landscapers – There had been consistent problems with landscaping contractors' being unfamiliar with City regulations and stormwater best management practices (BMPs) for flood reduction.
Along these same lines, the Committee compared the areas of flood hazard in Pasadena with areas that had flood insurance coverage. They concluded that the entire city is floodprone, and many claims have been filed for damage in X Zones, but coverage in those zones is only at about 30%. Committee members believe that one reason for this is that some people think that flood insurance is not available in the X Zone. "This misconception needs to be corrected," noted the Committee in its report.
Pasadena's PPI Committee therefore drew up a plan to make sure that the right venue, messages, tools, and resources would be used to communicate with these and other priority audiences. Then, with limited resources, the community implemented the first PPI activity in the country.
"The CRS Program for Public Information activity helped us better organize and focus our efforts. We became more effective by following the PPI guidance," explains Locke.
Today, Pasadena's outreach program is very wide in scope, embracing not only specific projects but also ongoing activities. Interpreting flood maps for residents and providing visible support and participation in other groups' efforts like beach and bayou cleanups, are a few of these activities. The Mayor's Action Line, where people can call to notify the City of flooded streets or request infrastructure improvement or maintenance, is also an important activity that keeps the line of communication between residents and their city open.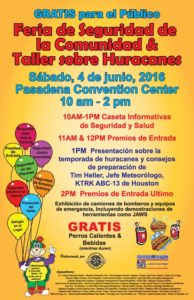 The City's stakeholder groups contribute their time and resources to the City through volunteering, and the City in turn fosters numerous projects like Adopt A Waterway, that help spread the word about flood-related concerns. Volunteers from the schools, local businesses, and others help glue informative buttons on storm drains to prevent littering that may cause flood hazards.
The City developed Spanish-language materials, and translated many existing brochures, posters, warnings, and announcements in order to reach a broader audience.
Another CRS-credited outreach technique Pasadena has developed is a flood response plan. Using past experiences and documents, the City is ready with bilingual supporting materials to distribute needed information aggressively immediately after a flood. When flooding occurs, people's attention is more focused on the hazard than it is during dry seasons. "When the next flood hits, we will be ready to send needed messages to our citizens," Locke explains.
Outreach Helps with Repetitive Flood Losses
Scattered throughout Pasadena are 305 properties that have filed repeated claims for flood damage. Another 86 repeatedly flooded buildings had been relocated, elevated, or otherwise improved to mitigate flooding. In addition, when the PPI Committee first met, only 1/3 of the reported repeatedly flooded properties had flood insurance policies in effect.
In the summer of 2015, the City hired three interns to spend a month coordinating the delivery of letters to the repetitive losses areas, installing buttons on the storm drains in those areas to let residents know that "only rain should go in the drain," and distributing flyers explaining the reasons for protecting the storm drain. "We also left a survey at every home to get the residents' input on how we could mitigate flooding in the repetitive loss areas," says Locke, making the project mutually beneficial.
More Value from the PPI
Using the PPI strategy also taught Pasadena to embrace support wherever it was found. From the beginning, the PPI Committee members offered help with outreach activities in the PPI. This drew people from their constituent groups, and their networks of contacts, to work together for a common goal.
"The stakeholders want to be part of the outreach using their meetings, newsletters, websites, and other resources," notes Locke. As an example, the owner of a printing business who is a member of the PPI Committee wanted to help with printing expenses and also to educate her own employees about flood issues. A facilitator of the Community-Industrial Advisory Councils also offered her meetings and webpage as a method of communicating messages.
The City partners with anybody and everybody  who needs—or wants to give—help or support in flood prevention and mitigation and protecting the natural environment. "Every year, the number of our partners increases," says Locke.
To sum it all up, Locke says, "The PPI became a vital part of everything we've been doing in our CRS program and flood loss reduction program. It keeps our people informed about flooding in our community and what they can do about it. By giving us a map for working together, it helps us work towards our community goals."
Editor's note: This is just a snapshot of the numerous floodplain management and CRS activities being carried out in Pasadena. For more details, see the city's website.