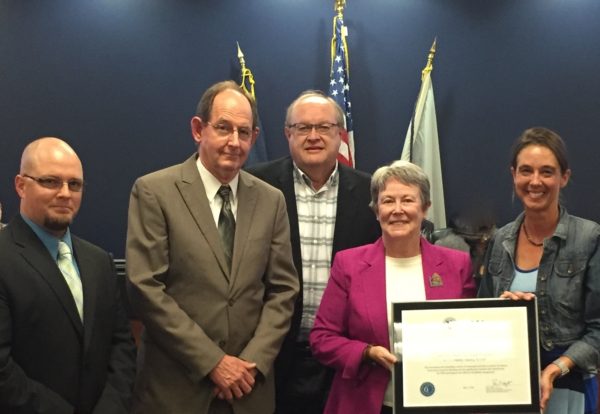 Shawnee goes Above and Beyond—with Partners
"We do not have a large flood insurance policy base, so obviously we are not in the Community Rating System for premium reductions," says Jonathan Wiles, Senior Engineering Technician and CRS Coordinator for Shawnee, Kansas. "We do it because it's the right thing to do to protect our citizens and is good stormwater management."
Shawnee covers about 43 square miles, with a population of around 67,000, southwest of Kansas City. It is bounded on the northwest by the Kansas River and tributary creeks also flow through. The community joined the CRS in 1991 and is now a Class 7.
"A lot of our stormwater management was implemented before joining the CRS, but a lot has been done because of CRS," explains Wiles. "The CRS provided organizational standards for our program and gave us the guidance to enhance it and make it sustainable."
Protecting the Environment
Shawnee's floodplain area is 98% open space. "Our objective was to stop floodplain development, preserve open space, and protect the natural functions of the floodplains," Wiles explains. Two-thirds of this open space (2,000 acres) was achieved by implementing stream buffer zones, which keep buildings and development a certain distance back from the edge of the waterways. Many of these open spaces are now protected as public parks, for which the city receives CRS credit points.
What's more, adds Wiles, "we do not allow any new construction of any kind larger than 120 square feet in the floodplain. Period."
With funding from Johnson County, Shawnee removed seven repetitive loss properties and demolished them. "The safety of our citizens and CRS were the driving factors for this, says Wiles. "Now, we have only one repetitive loss property left in our floodplain."
Higher Regulatory Standards
"We believe that the minimum National Flood Insurance Program floodplain management requirements are C-level work. We're not in the business of performing at a C level, so our standards have to be more restrictive," says Wiles. "It's a bonus that CRS credit comes right along with implementing these higher standards."
The state of Kansas has a one-foot freeboard requirement for floodplain development. In its local ordinance, Shawnee added an another foot, bringing the freeboard requirement to two feet above the base flood elevation.
Along with its partners in the Johnson County Stormwater Management Advisory Council (SMAC), Shawnee developed its own digital Flood Insurance Rate Maps (D-FIRMs), and based them on ultimate (fully) developed floodplains—a standard that provides even more protection into the future.
"The CRS was a vital part of everything we are doing and it helped us harmonize our overall program and make sure we were covering all of our bases," says Wiles.
Reaching the Public
Because of the CRS, Shawnee upped its public awareness efforts, distributing stormwater management program brochures and FEMA brochures to five city facilities and restocking them year round. Every year during Flood Week in May the City releases articles through social media such as Facebook and Twitter, and subscriber e-mail alerts. "The CRS gave us the guidance on how to do this and we get a lot of positive feedback on it," says Wiles.
Forging Partnerships
Four key partnerships for the City are a result in part of its CRS participation, according to Wiles.
The Johnson County Stormwater Management Division works with the City on its floodplain mapping and also is a source of funding for mitigation projects.
The Kansas Department of Water Resources has been a partner on Shawnee's Risk MAP projects, as well as providing countless other forms of assistance with the National Flood Insurance Program and the CRS.
The Mid American Regional Council provides support and guidance on regional environmental protection and open space protection. Because drainage and habitat and other water-related features cross state boundaries, Shawnee has found it important to partner with an entity that can also reach across state lines.
Missouri-Kansas (MOKAN) CRS Users Group grew directly from the CRS and has been a huge success in providing floodplain management support to communities across our region. "We are also working on getting Nebraska and Iowa into the group, and reaching out to Arkansas as well," Wiles notes.
With the MOKAN Users Group website, biannual training sessions and newsletters, CRS communities in the states stay well-informed. To help some of the smaller communities get started in CRS, the MOKAN User Group developed a "Level-Nine Entry Package" to guide them through the process.
"Drainage flows do not stop at the city limits and Shawnee is not an island, says Wiles. "The more communities around us are in the CRS and maximizing CRS activities, the more effective everyone's stormwater management and CRS programs will be."
"Our CRS participation is a testament to our dedication to protecting our citizen's lives and property, to provide help and assistance, and preserve the natural floodplains and functions," Wiles concludes.
Editor's note: This is just a snapshot of the numerous floodplain management and CRS activities being carried out in Shawnee. For more details, see the city's website.